Hank Williams, Jr. and Alabama Sign on to Play SeaWorld Shows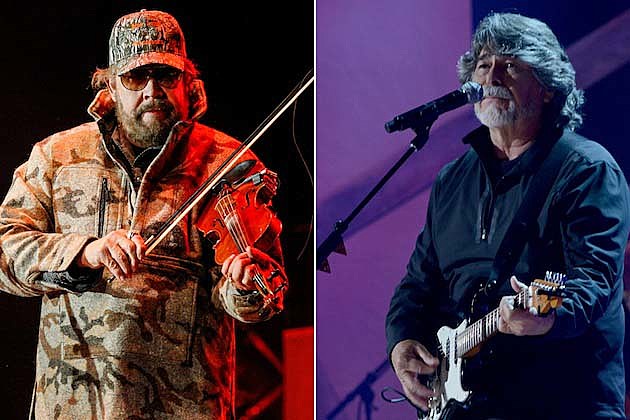 Controversy over SeaWorld has been rocking the boat both socially and in country music, and while some artists have declined to play at the park's events, others are on the other side of the pool.
Hank Williams, Jr. and Alabama have signed on to perform at SeaWorld's Bands, Brews & BBQ events this weekend. As the final performers, Williams will play Saturday (March 8), while Alabama take the stage Sunday (March 9), ending the festivities with a splash of country.
The concert series has been struggling to find artists willing to perform ever since CNN aired the documentary 'Blackfish' in October, raising questions about the marine park's ethical practices. The film questions the humaneness of keeping killer whales in captivity, focusing on one whale in particular who has taken the lives of a few people who fell into his tank.
Immediately, the controversy became a 'whale' of a problem for the park. Stars that decided to pull out of booked SeaWorld shows include country's Martina McBride, Willie Nelson and Trisha Yearwood, along with several more outside of the genre.
Others, like Gretchen Wilson, did take their talent to Orlando, responding to fan criticism along the way. 'American Idol' star Scotty McCreery pointed out before he performed that there are two sides to every story, explaining, "I've done my research and feel like it's a fine decision to go out there and play SeaWorld."
Neither Williams nor Alabama have responded to any criticism directly, but the classic country band did issue the following tweet:
#AllAmericanTour ! We are excited to be coming back to Orlando, FL! 3.9.14 – Bands, Brew, and BBQ at Seaworld! http://t.co/rcO4FPSZsP

— ALABAMA (@TheAlabamaBand) March 3, 2014
Next: Why Did Martina McBride Opt Out of SeaWorld Show?
Source:
Hank Williams, Jr. and Alabama Sign on to Play SeaWorld Shows