Kelly Clarkson Photobombs Ellen DeGeneres in Hilarious Grammys Snapshot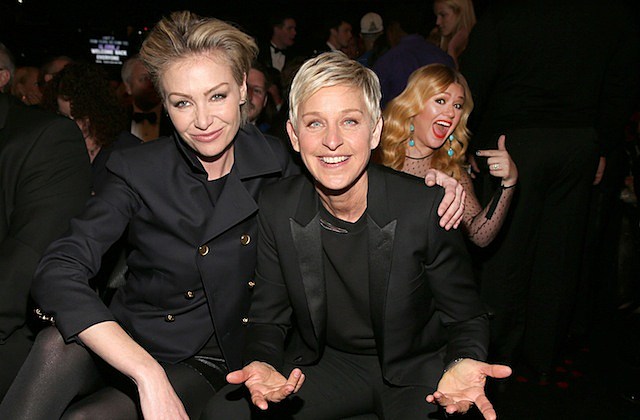 Kelly Clarkson had a picture-perfect night at the Grammy Awards this year, taking home the trophy for Best Pop Vocal Album. In the midst of her whirlwind evening, she managed to photobomb a picture-perfect moment between Ellen DeGeneres and her wife, Portia de Rossi. While the photo may not be placed on the mantle in the famed comedian's home, you can certainly argue that Clarkson added her own dose of comedy.Â
The bubbly songstress was photographed seated behind the smiling and unassuming couple, with a wide-open mouth and a whole lot of fun under her belt. Her slap-happy antics were evident both in the photograph and onstage, when she accepted her prestigious award, prompting the audience to laugh along with her playfully exuberant speech, during which she flubbed people's names and admitted to being stuck on Miranda Lambert — literally.
The 'Stronger' hitmaker had a truly memorable evening, as she not only took home some hardware, but also gave an emotional tribute to Patti Page and Carole King with a thrilling vocal performance.
Clarkson's future looks like it's full of fun moments like Sunday evening, as she plans to get married this fall. Hopefully there won't be any photobombing attempts in her wedding album — although, they are pretty entertaining to witness!
Next: See Kelly Clarkson's School Yearbook Photo
Source:
Kelly Clarkson Photobombs Ellen DeGeneres in Hilarious Grammys Snapshot