Little Big Town, 'Tornado' – Lyrics Uncovered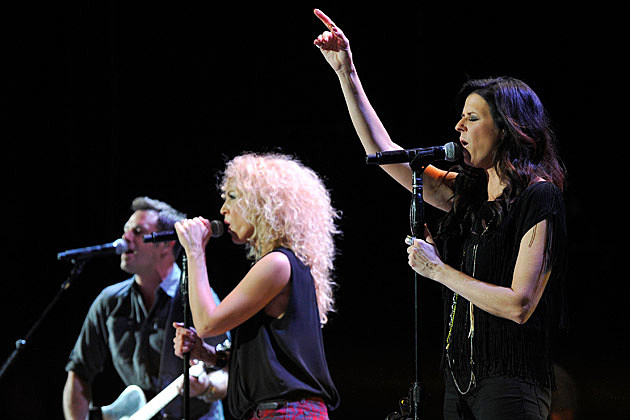 Song lyrics can stem from just about anywhere. Just ask songwriters Natalie Hemby and Delta Maid, who got together and knocked out Little Big Town's 'Tornado' lyrics. The song is the band's current single and the title track to their brand new album.
"This was the last song we wrote in 2011," Hemby tells Taste of Country. "'Tornado' is a song I wrote with a girl from London. Her name is Delta Maid. She is a super sweet girl. We were both sitting there and we were both really tired. It was at night. She was my last co-write and I was hers. She said, 'Do you guys have a lot of tornadoes here?' … in her sweet, British accent. I was like, 'You know… we really do. This is sort of 'Tornado Alley." So we started watching [YouTube] footage from Joplin, Mo. and all these other tornadoes… it was kind of depressing! She said, 'Would it be really odd if we wrote a song called 'Tornado'?' I was like, 'No! I love that idea!'"
"Thought you'd change the weather / Start a little storm / Make a little rain / But I'm gonna do one better / Hide the sun until you pray / I'm a tornado / Looking for a soul to take / You're gonna see me coming by the selfish things you did / I'm gonna leave you guessin' how this funnel is gonna hit / I'm a tornado / Looking for a man to break," the pair wrote in Little Big Town's 'Tornado' lyrics.
"So we just started piecing it together," says Hemby.
"Yeah, I'm gonna lift this house / Spin it all around / Toss it in the air and throw it in the ground / Make sure you're never found," they wrote in the song's haunting chorus.
"By the time we finished it, it was like, 'This is freakin' awesome!'" Hemby gushes of the 'Tornado' lyrics. "I really loved the song."
"Cut to like January, I wrote with Little Big Town," the songwriter — who had a hand in 'Pontoon' — continues. They were also listening to outside songs. I said, 'I just got done writing a song, and I want to know if you guys want to hear it.' I didn't have a work tape, but I played it in front of them. Karen was like, 'Can you get me a work tape of that?' So I got it to them, and I didn't even know they had cut it 'til pretty much the record was done. I was like, 'They cut 'Tornado' too?! Oh my gosh this is so awesome!'
Adds Hemby, "That's how it all kind of happened, which was so crazy."
More Lyrics Uncovered: Cruise Lyrics | Come Over Lyrics | Creepin' Lyrics | Take a Little Ride Lyrics | Over You Lyrics | Wanted You More Lyrics | Tip It on Back Lyrics | You Don't Know Her Like I Do Lyrics
Source:
Little Big Town, 'Tornado' – Lyrics Uncovered