LoCash Cowboys Excited to Show Fans a Different Side of Their Music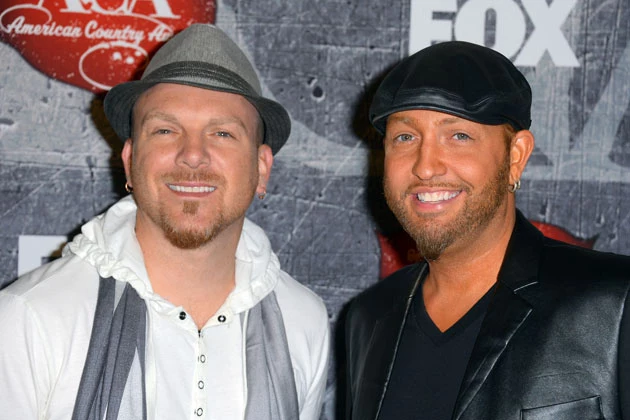 If you wait long enough, being pigeonholed isn't a bad thing. That's the message from LoCash Cowboys' Chris Lucas, who readily admits songs like 'Here Comes Summer,' 'C-O-U-N-T-R-Y' and 'Truck Yeah' (written for Tim McGraw) put them in a rowdy, bad boy box that country radio wasn't quite ready for. Now, with groups like Florida Georgia Line having success, he hopes the songs from their own upcoming self-titled album will find some room as well.
"I think we were a little ahead of our time," Lucas tells Taste of Country about 'Here Comes Summer,' their 2010 single. "You look at a Florida Georgia Line, you look at the new Blake Shelton song, that's stuff we've been doing for God knows how long and it seems to be working right now."
He adds, "LoCash fits now, it fits."
When it comes to record deals, Lucas and partner Preston Brust have been snake bitten. Several closed up shop beneath them, including Dreamworks when Toby Keith decided to build his own music empire. Throw in the death of cherished bandmate Ryan "Troop" Jones and a few other personal hurdles, and times got tough. Very tough.
"When I say I lost a house and a car," Lucas told GAC earlier this year, "I really lost a house and a car. I lived on tuna fish and mustard for two years." The lowest point came when his father died. However, it was minutes — literally minutes — after he looked up begging for a break that the phone rang with the news that Keith Urban wanted to cut 'You Gonna Fly.'
This isn't to say it's been all downhill since. LoCash Cowboys — who play the Taste of Country Music Festival on June 13 — are still searching for radio success, but they're on a proven label that believes in them, Average Joes Entertainment. The lesson learned from his father's death became a song called 'Best Seat in the House.' Lucas says he and his songwriting partner were weeping during every word of that session. Fans hear it and instantly apply it to their lives.
"I think Dad kinda had his hand on my backbone while writing this song," the singer says. "I really think he gave this song to us to write, and I think it's gonna be a huge hit for us."
'I Hope' is another that will help Lucas and Brust break from being labeled good-timers who only like fast cars and beautiful women. The song is about his child, and it was recently picked up as the theme for City of Hope.
"All the stuff that could fail for an artist, it could just happen in a bad way, it did for us. We've been kicked, we've been punched. Heck, we probably left organs on the ground. But we got right back up, and 2012 was such a great songwriting year that it also brought LoCash back."
The duo's Taste of Country Music Festival performance comes before Parmalee and Willie Nelson. While the two bands are similar, Nelson's brand of country is more refrained. This doesn't concern Lucas, who has opened for the legend before.
"Willie's crowd is Willie's crowd," he insists. "They're very opened-minded though, which is really cool, as Willie is."
Plus, they'll adjust.
"You can't go out and do — well, we do it anyway — but you can't go out and do 'Fight for Your Right to Party' at a senior home," he says, sharing that the Beastie Boys classic is how they close their shows.
'LoCash Cowboys,' the album, will be available on June 18. It includes the current single 'Chase a Little Love,' a mid-tempo and slightly rowdy love song which features the aforementioned fast cars and beautiful women in the video. One can't say the boys are not being true to themselves, however. The orange and black Dodge Challenger belongs to Brust. Lucas is saving to buy the 1969 Camaro, but he may want it for different reasons than he would have years ago. His personal speed record is 120MPH, but, he assures with a laugh, "Not since I've grown up."
Source:
LoCash Cowboys Excited to Show Fans a Different Side of Their Music