Love and Theft's Stephen Barker Liles Gets Engaged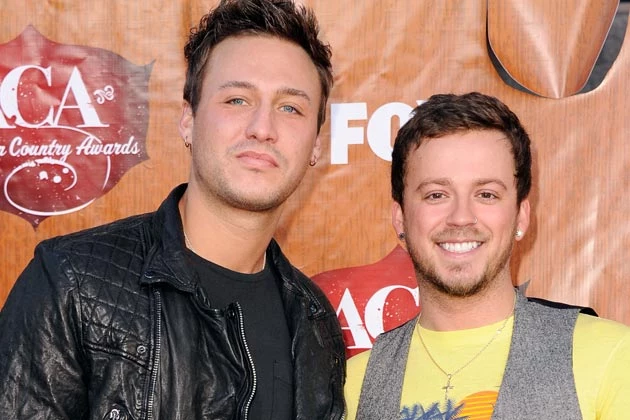 Love and Theft's Stephen Barker Liles is officially off the market. The 'Angel Eyes' musician proposed to his longtime girlfriend Jenna Michelle Kennedy on Tuesday (May 28), and she said "yes!"
It was quite the romantic setup. The proposal took place in Fort Myers, Fla., with Liles employing a friend to position cameras so he could film the whole shebang.
"I had one of my closest friends, Justin Ross Ward, drive down and set up cameras," Liles shares with People of his master plan, which involved some innocent subterfuge. "Jenna and I were planning on a sunset dinner at Fresh Catch Bistro, and I called ahead and told them to say that the table wouldn't be ready for 30 minutes so that we had to kill some time and walk on the beach."
Nice work, right? What a clever way to whisk her away to the much more romantic beach setting so he could pop the question.
His bride-to-be took off her shoes and they began a stroll on the beach, which when she noticed the cameras and started to have an "Aha!" moment — but he quickly diffused it.
"[She] asked what they were doing, and I said, 'Probably just watching the sunset!' Then we walked closer and I got down on one knee and begged her to be mine forever," Liles spills/
He admits that both he and his new fiancee both broke down into tears.
The beach proposal wasn't the only old fashioned and decidedly romantic element of the proposal — the singer also asked Kennedy's mother and three siblings for their blessing last weekend. The ring was likely burning a hole in his pocket since he purchased it!
"I am so blessed to have [Jenna] in my life and for us to become one," Liles says. "She is my best friend and I am so grateful for the Lord bringing her into my life."
A tentative May 2014 wedding is in the planning stages. Love and Theft are perhaps best known for their hits 'Runaway' and 'Angel Eyes,' in addition to their latest single, 'Runnin' Out of Air.'
Source:
Love and Theft's Stephen Barker Liles Gets Engaged