Country Stars Support, Mock Candidates During Presidential Debate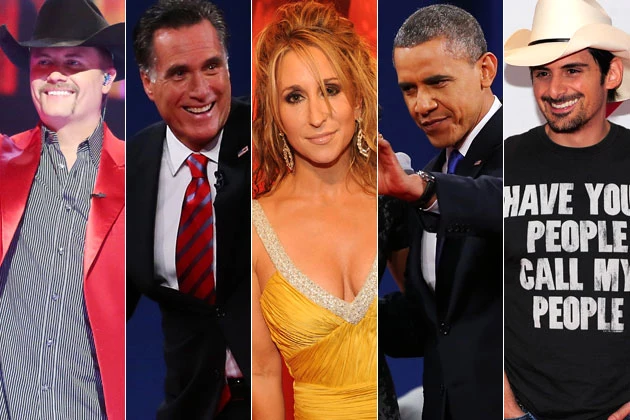 The third and final presidential debate was Monday night, and like millions of Americans, many of country music's biggest stars watched and reacted. A few got fired up about claims made by both presidential candidates, while others — like Brad Paisley — cracked a few jokes to followers on Twitter.
The future of our country is no joking matter, but Paisley and others like Jaron Lowenstein from Jaron and the Long Road to Love seem to relish in the light-hearted moments of each debate, while paying close attention to what both President Obama and Governor Mitt Romney were saying. A few stars, like Charlie Daniels and Natalie Maines of the Dixie Chicks, wear their political affiliations on their sleeves. They were among the crowd tweeting opinions throughout the night, like they have been during much of the election.
I think I just saw Big Bird in the audience.

— Jaron Lowenstein ® (@JaronLowe) October 23, 2012
I'da paid real money if my friend @bobschieffer woulda worn a boxing referee jersey tonight.

— Brad Paisley (@BradPaisley) October 23, 2012
Dang! @barackobama just schooled @mittromney for the third time! "Mass falls 48th in small businesses; so how is small businesses a priority

— Jimmy Wayne (@JimmyWayne) October 23, 2012
Why was Libya only discussed for the first 2 mins of the #debate? I want to hear the President explain WTH happened. Don't you? C'mon…

— John Rich (@johnrich) October 23, 2012
Tate doesn't care what @mittromney or @barackobama says twitter.com/JimmyWayne/sta…

— Jimmy Wayne (@JimmyWayne) October 23, 2012
Wish I could ask a few questions.

— Charlie Daniels (@CharlieDaniels) October 23, 2012
If either one of these guys would either throw up or forcefully pick their noses right now it would be great for our CMA monologue.

— Brad Paisley (@BradPaisley) October 23, 2012
"Obama bin laden?" …. Ummm yep, that happened!

— Bridgette Tatum (@BridgetteTatum) October 23, 2012
How come the Romney campaign has so much $$ but wants me to come play for them for free? I'm afraid for us all!

— Heidi Newfield (@heidinewfield) October 23, 2012
Is it just me or is the president talking in circles.

— Charlie Daniels (@CharlieDaniels) October 23, 2012
Closing statements = going back on everything you just said and every point you just painstakingly made!

— Heidi Newfield (@heidinewfield) October 23, 2012
I didn't see any winner in tonight's debate. It was pretty much a snooze fest.

— James Otto (@jamesotto) October 23, 2012
Source:
Country Stars Support, Mock Candidates During Presidential Debate